Tutorial for GS League [ENGLISH]
Napsal DarkMouse dne 11.02.2016 pro sekci GS
In this article we will learn something about our tournament system gsliga.gamesites.cz. Primarily we'll focus on using and orientation in system.
Tutorial for Gamesites tournament system
1) On web-page http://gsliga.gamesites.cz you can login with same name and password as you have on our basic web. If you haven't got any account, you can create it HERE.
2) After your first login into GS league, you'll have to enter your SteamID. WARNING! You can't change your SID by yourself. (Just administrators can change SIDs of other players. If it's necessary, contact them by PM.)

To play a cup, you have to be part of team, you can create your own or join some existing.

(Type of team is used for the specific tournament mode.)
Create a new team: bookmark Týmy and red button Nový tým (next you'll fill team name and choose mode).

Each team must have a password for entrance. Then you can invite your teammates.

You can edit your team using Editace (edit). There you can change name of clan, insert your own logo, write a description, etc.
Owner can invite or kick other players from the team. For invite to clan must clan owner send a link to clan!
There will be many cups. You have an overview about all upcoming tournaments.
Example:

Clicking on tournament gives us more info.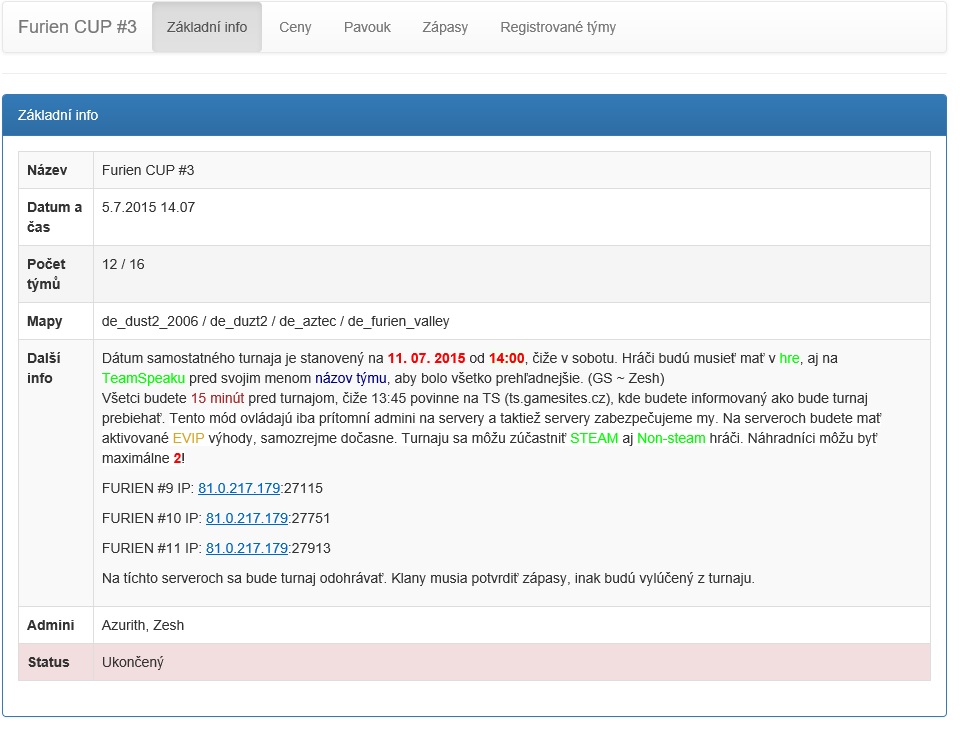 This picture shows main window with a lot of important information about the tournament.
With further clicks we can find: Ceny (prices), Pavouk a Zápasy (spider and table of matches) (all matches, which appears after start of the cup), Registrované týmy (registred teams) and at last, but the most important thing is Registrace (register).
It's necessary to ensure that you confirm participation your team in the tournament, an hour before the tournament starts, otherwise you'll not play.
Here is how to confirm the registration in for the cup - click items: Detail týmu → Soutěže týmu → Potvrdit ůčast
---
Useful information for all players:
Where can I find my events / confirmation, etc.?


In properties of every clan, in which you are a member, there is column Události (events), where after clicking the button you can see, what you have confirmed, etc. In this button is a number with the count of events.
Uploading of screenshots, results, demos or chatlog between teams?
In every detail of match you can see everything about match and you can write results of match.
What is the most important for you?
- Výsledek (Control panel [result])
- Protest (Give protest)
- Komentáře (Comments)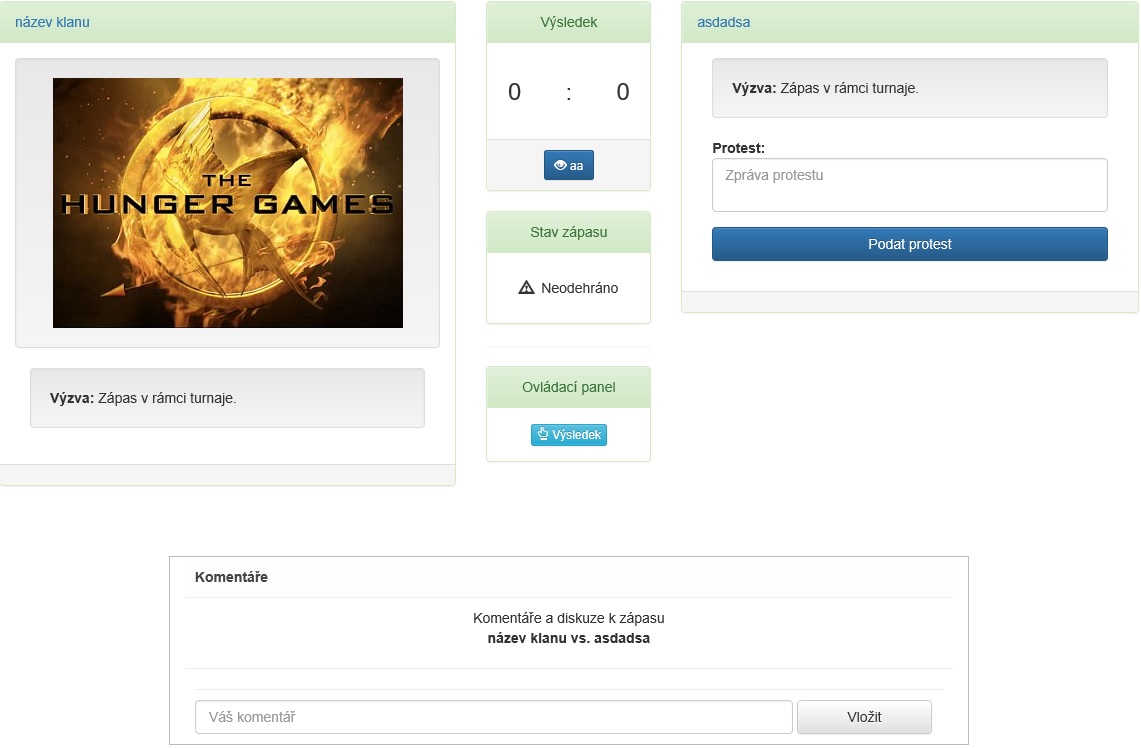 In details of matches is information summary. In the end of match, you have to write score from that game and upload screenshot as proof.
When you click on a control panel with a result, there is a where you shoul enter the score.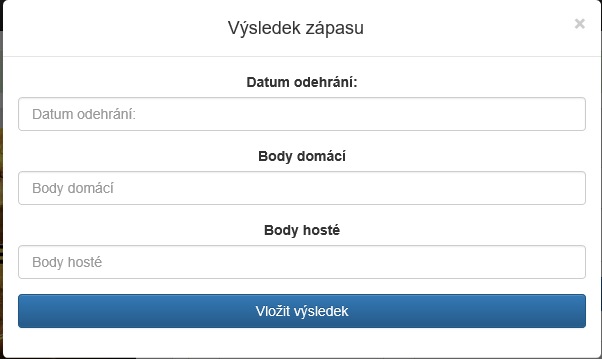 After inserting results you have to upload screen.
Here you can upload demos and screenshots.
Your opponent can protest. It will be solved by tournament admin.
---
There are two types of tournaments in our system:
1) Turnaj každý s každým (A round-robin tournament)
2) Turnajový pavouk  (Tournament spider)
A round-robin tournament - your team plays with all other opponents.
Tournament spider - random arrangement of the team table, defeated team drops out.

On your profile you should find basic info, Týmy (Teams) in which you have played and your Úspěchy (Awards).

---
Always carefully read the whole rules for every tournament!